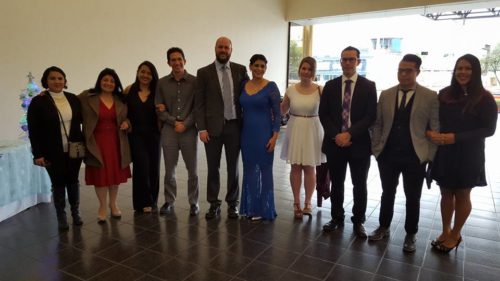 (Mexican volunteer team for the gala)
On January 14th a 2-year dream became a reality when "Juntos en Esperanza" (our support group) hosted a Winter Gala for kids with special needs and their families.  This has been a year-long project with the last 6 months being filled with most of the planning, the last 3 months being the most intense and the last month being CRAZY.  We had two ladies come from North Kitsap in WA to help us decorate for the event.  It was a wonderful night for us, and here is why:
First, I have to take you back to the day Malachi was diagnosed with Cerebral palsy.  The blood rushed to my head and all I could hear was a rushing sound like water, I was in shock and bewildered.  I was overwhelmed with the thought of caring for a child with a special need and overcome with a sense of abandonment from God.  It didn't make sense.  We were a family devoted to doing Gods work and this just seemed like a road block, but still, we never felt God calling us from the mission field.  We had to change our field and start all over, but we were determined to fulfill our calling from God.  Even though I did not understand God's ways at the time, I was still devoted to be obedient to Him. It was at this time we decided that wherever we landed, we would begin a support group for parents with special kids.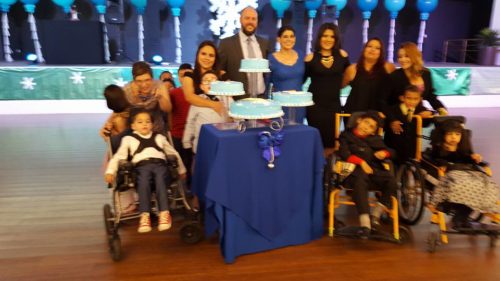 (Core group of "Juntos en Esperanza")
Upon arriving in Guadalajara and immediately being thrust into the world of the disabled community there, it became clear to us that there was a need for friendship and a sense of family amongst the parents with special needs.  It was there that the winter gala was born.  These families needed relief, one night where they could just be a happy family, free from the stresses of everyday and for their child to feel loved, accepted, and wanted. Since "Juntos" is also about giving back, we wanted to include an orphanage that house kids that have been abandoned by their parents because of their needs. We found a home and began to build a relationship with them, and at the event we welcomed 9 children from the home to the gala.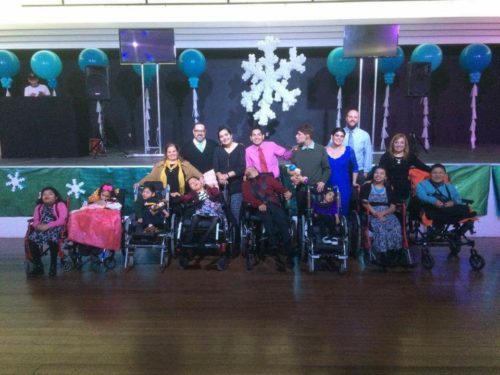 (Children and staff of the orphanage)
Fast-forward to the day of the gala, which began with much stress but when the event began, it all melted away. We were seeing great results from the extreme organization that had been going on daily for a month before. You never know here in Mexico how many people will show up to an event even if they RSVP, but that night, to my great relief, people showed up, and the event began.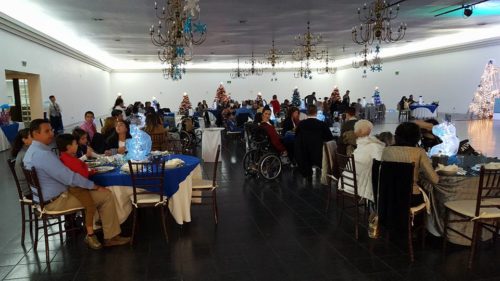 (Only a handful of invited families could not make it, what a great turnout we had!)
I can't really explain how I felt when the event began and the Frozen show took to the stage. I looked around at all the 150 people that came, with their rapt attention to the stage, and my eyes filled with tears.  It was now time for us to watch and observe and enjoy.  We all sat in wonderment at the Frozen show, enjoyed taking our kids to the dance floor and dancing with them (what a sight to see parents dancing with their kids in wheelchairs and autistic children running on the dance floor with no cares or worries or boundaries), we enjoyed a bible story of the Three Kings together, followed by gifts for everyone including the parents and siblings, and then cutting the cake.  The gifts were amazing.  No one was shrieking in excitement, it was better, there was a breathless wonder, huge smiles and some tears from the kids. There is not one word to accurately describe that moment.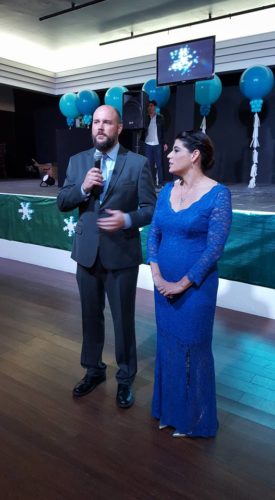 (Talking about "Juntos")
The rest of the night was filled with dancing under the snow machine, kids and adults enjoying gifts, talking to parents about "Juntos" and garnering interest in the support group and soaking in the moment like one soaks up the sun. How can I write completely about the tears I saw in peoples eyes, or watching a 50 year old woman with a special need hug a "Paw Patrol" stuffed animal  like it was the best thing in the world and never let it go, or watch the boy from the children's home open his portable DVD player with carrying case and immediately put it around his neck.  Each moment was filled with their own amazing joys personal to them.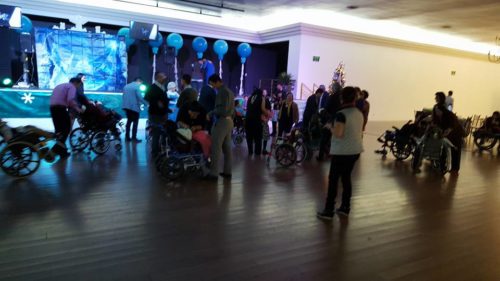 (Parents and kids and siblings enjoying each other)
Could I reach down and pull out my soul and show you how I feel, I would because there is no other way to describe the peace and joy that God has given us through using a life-altering diagnosis for HIS glory. Could I show you a glimpse of the happiness and contentment I feel it would be as bright as the sun itself.  Could I show you the healing that has taken place you would see poems not yet fully written to God on how amazing He is. Only God can bring that much joy and contentment.  Only God can turn ashes into beauty.  And only God can use this group to bring others to know Him.
I don't have many pictures yet but the ones I do have I have shared.  We want to thank each of you who have had a hand in making all of this possible, we are blessed.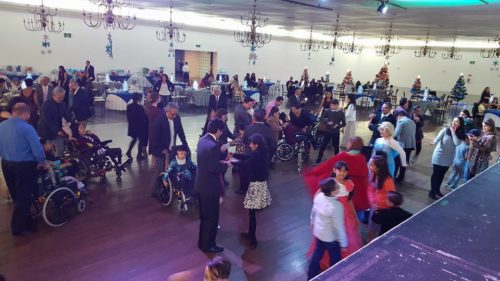 (A great night had by all!)