6 Months.  It's been six months since we arrived. In that time we have put our kids in school, Set our house up, gotten our residency visas, enrolled Malachi in a school for people with cerebral palsy, Malachi got accepted into CRIT, 1 church plant information dinner, 2 church plant launch team meetings, and have competed 5 months of language school!  Shew!  It's been busy but it's been a time blessed by God.
Evangeline Bowling with Dad
Language School
Learning a new language has proven to be very difficult.  Even though I (Mel) have a solid background in Spanish, the new grammar and vocabulary are extremely challenging.  John has had an even tougher time.  He started out from square one, but he has been doing a great job.  We have learned a lot in 5 months, and we are just diving in and speaking the language to our friends, even with mistakes.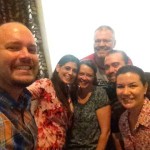 Practicing Spanish at a team meeting
New Year, New School
Last school year we put the girls in a school that was in our neighborhood.  It is a school for Spanish speakers to learn English and because of that, Evangeline and Ellis were not learning much Spanish.  We made the hard decision to switch schools.  After so much transition, we were reluctant for them to make another one, but we want to give our girls the best chance to learn Spanish.  We are happy to report that they transitioned beautifully and are LOVING their new school.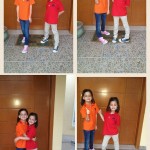 First day of new School.
CRIT
For three months now Malachi has been going to CRIT (physical therapy center).  He is doing very well there.  While the progress is slow, he IS getting stronger every day.  We are praising God for this opportunity there, he has all the doctors he needs under one roof.  At only $5 a session, God has given him the chance to beat the odds, and we have faith that he will.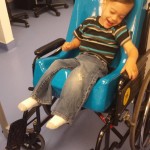 At CRIT getting weighed
Church Plant
Watching a church begin form the ground up is so thrilling to witness.  From the "Church Plant Dinner" where it was introduced to the sister church, to the 2 launch team meetings we have had, each step has been a wonderful learning opportunity for John and I.  Our team members, Dan and Melinda Nelson, are awesome leaders who love the Lord and deeply desire to see Gods church grow.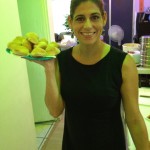 Serving at the church plant dinner.
Thank you so much for your prayer and financial report.  We love you all very much.
Please pray
Malachi: He is extremely sensitive about not being able to sit on his own.  We think he is self conscious and as a result, it makes it difficult to work with him on trying to sit.  Pray that God would work on his precious heart and give him what he needs to push through.
Evangeline and Ellis: Continue to pray for their transition at school and that they will learn the Spanish language quickly so they can communicate to teachers and friends.
John and I: Pray that we too will continue to learn the language and that one day soon, everything that we have been learning will just "click"
Church Plant: Please be in prayer that the Lord will continue to add to our launch team and provide a national pastor for it.